Best Holiday Catering Menu
It's time to plan your holiday gatherings!
We can take care of all your holiday catering needs no matter what size group you're hosting. Our holiday catering menu has something for any time of day including Holiday Breakfast, Holiday Brunch, Lunch, Dinner, Desserts or just treats for an afternoon get-together. We can prepare and provide all you need for a memorable event including Party Rentals, Wait Staff, Bartenders and more!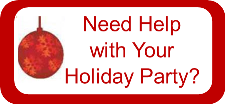 We've been preparing holiday caterings since 1997!
We offer holiday catering group discounts for orders of 100 or more!

Holiday Breakfast Catering Menu
HOT BREAKFAST BUFFETS
Breakfast Casseroles
Casseroles serve 12-16 people.
Country Breakfast Egg Casserole 
Mom's Casserole:  Sausage, egg and cheddar cheese
Dad's Casserole:  Ham, egg, cheese, green pepper & onion
Breakfast Frittatas
Veggie – Eggs, veggies, and cheese
Sausage- Eggs, sausage, cheese, pepper and onion
Denver – Ham, green pepper, onion and mushroom
Aspen's Prized Baked French Toast 
Baked French Toast with a hint of cinnamon, drizzled with sweet maple breakfast syrup
Hot oatmeal served with brown sugar, cranberries and almonds
Texas Break-feast
Scrambled eggs, bacon, sausage, biscuits, country gravy & breakfast potatoes served with butter and jellies
Continental Breakfast Bonanza
Our Breakfast Bonanza is the best selection of pastries in town. Featuring mini muffins, Danish, iced cinnamon twists, party croissants, mini bagels with veggie cream cheese and all butter coffee cake, there is something for everyone!
Small serves 8-10 | Medium serves 12-15|Large serves  18-20
Perfect Holiday Breakfast Additions
Complete your holiday meal with these great breakfast items:
Fresh Fruit Kabobs – Skewers of pineapple, cantaloupe and strawberries
Fresh Seasonal Fruit Trays – Small Feeds 20-30 | Medium Feeds 35-45 | Large Feeds 45-60
Yogurt and Granola Station  Build your own parfait with yogurt, fruit and granola (Serves 8-10)
Breakfast Pudding – rich and creamy Overnight Oatmeal with yogurt, oats, almonds and fresh fruit (Serves 10-12)
Breakfast Potatoes


Bacon
Sausage
Corporate and Special Event Holiday

Lunch, Dinner and Banquet Menu
Perfect for a holiday banquet, dinner or lunch for a small group or a whole bunch!
We offer holiday catering group discounts for orders of 100 or more!
All Holiday Meals include:
Dinner Roll & Butter FREE foam Place Settings & Free Serving Utensils
ASPEN'S HOLIDAY FEAST – our most popular holiday menu!
Oven Roasted Turkey Breast
Glazed Honey Ham
Country Mashed Potatoes
Our Famous Cornbread Stuffing
Whole Cranberry Sauce
Your choice of 2 side items below
Traditional Turkey Buffet
Oven Roasted Turkey Breast
Country Mashed Potatoes
Our Famous Cornbread Stuffing
Whole Cranberry Sauce
Your choice of 1 side item below
Spiced Apple Pork Loin

Boneless Pork Loin chop slow roasted with spiced apple butter
Oven Roasted Potatoes
Whole Cranberry Sauce
Your choice of 1 side item below
Herb Rubbed Beef Tenderloin
Herb Marinated Grilled Beef Tenderloin
Twice Baked Potatoes
Juicy grilled chicken breast topped with a rich creamy lemon sauce accented with capers and fresh parsley
Country Mashed Potatoes
Your choice of 1 side item below
Holiday Side Items
Whole Green Beans | Glazed Baby Carrots | Corn | Oven Roasted Veggies | Whipped Sweet Potatoes | Asparagus Green Bean Medley | Oven Roasted Sweet Potato Medley | Oven Roasted Sweet Potatoes
Holiday Dinner Salads
Traditional Dinner Salad – Salad greens accented with carrots, tomatoes, jicama and cucumbers served with Ranch and Balsamic Vinaigrette dressing
Cranberry Feta Salad – Salad greens with walnuts, feta cheese and dried cranberries served with Balsamic Vinaigrette dressing


Fresh Fruit Salad
Desserts for a Group
Our most requested afternoon Holiday Dessert Party Catering Menu
Holiday Cookie Assortment
Featuring Old Fashioned Party Sugar Cookies with colored sanding sugars, Rocky Road Cookies, Party Cookies and back by popular demand, All Butter Almond Snowballs.
Party Dessert Bars
Fudge Brownies and White Chocolate and Raspberry Cheesecake Bars
Fruit and Cheese Kabobs
Skewered pineapple and strawberry kabobs surrounding an assortment of cubed cheeses
Party Dessert Tarts
Southern Pecan, Cherry and Chocolate Mousse
Gingerbread
Individual gingerbread cake with whipped topping and sprinkles
Party Beverage Station
Hot Spiced Cider, Hot Chocolate and our Signature Totally Clear Punch

Holiday Dessert
Catering
Desserts for a Group
(Serves 12-16)
Aspen's Signature Bread Pudding
Our house made bread pudding spiked with sweet vanilla sauce
Our Famous House-Baked Gingerbread
Molasses and spice and everything nice baked into this velvet like dessert, served with whipped topping
Festive Party Cobblers  Just like a pie only more economical!
Southern Pecan  | Peach  |Cherry
Individual Desserts
Decadent Dessert Bars (by the dozen)
An extraordinary treat with strawberry swirl cheesecake, fudge brownies, sugar dusted lemon squares and raspberry shortbread bars
Holiday Sugar Cookies (by the dozen)
Old fashioned sugar cookies with sanding sugars 
Holiday Tarts (by the dozen)
Individual chocolate, cherry or pecan tarts. Served with whipped topping

Gallons
(Serves 10-12)
Hot Spiced Cider
Cinnamon and spice make this cider extra nice!
Hot Chocolate Station
Complete with whipped topping, marshmallows and sprinkles
Coffee  Includes sweeteners and creamers
Totally Clear Punch
Chilled Juices (orange, apple or cranberry)
Iced Tea
Sweet Iced Tea
INDIVIDUAL HOLIDAY BEVERAGES
Bottled Water
Canned Soft Drinks (Coke, Diet Coke, Sprite, Dr. Pepper)
Ice Service  – includes serving spoon
Ice & Tumblers (20 clear cups)