Tiny Texas Special Event Catering Ideas
Not everything catered is bigger in Texas but
it is all catered best in Texas!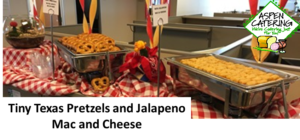 These Tiny Texas Special Event Catering menu ideas were created for a special event catering to welcome some very important out-of-town guests to a quick taste of Texas while meeting entire staffs of numerous departments on 3 different floors with a time limit of 15 minutes in each department. The food had to be quick to get, easy to carry, walk and talk with, and it had to coordinate with each departments décor and theme.
So to support the mission, we created a Tiny Texas Catering menu that addressed all the objectives: Eat a little something, meet the staff, and move on to the next department.
The first department selected an initial Welcome-To-Texas theme so their Tiny Texas Catering Menu was:
Tequila Lime Shrimp
We took our marinated shrimp, placed each one on its own little plate complete with creamy tequila lime sauce, and added a sprinkle of fresh chopped parsley. Having them all pre-plated allowed the client to simply pick one up, eat it and toss the tiny plate.
Tiny Texas Flatbread Pizza
Things are hotter in Texas! With a Dallas Cowboy themed department we created a Tiny Texas Flatbread Pizza similar to their Big D Flatbread. Grilled flatbread was layered with chunky tomato sauce, tiny pepperoni slices and mozzarella cheese. To add some Texas heat, we sprinkled those with sliced jalapeno and crushed red pepper flakes. These were cut into tiny squares to fit on tiny plates and small enough to pop in a mouth and move on to the next department.
Off to the next department which chose to serve:
Texas Caviar
This marinated bean dip was presented in hand made tiny tortilla cups. Each cup was filled with dip and put on its own tiny plate to be quick to pick up and eat.
Whiskey Palmer Punch
That famous blend of iced tea and lemonade and Texas Whiskey and served in tiny shot glasses. For decor, we surrounded the punch decanter with barbed wire.
One group requested more of a State Fair theme so we know fried something had to be included. We catered two appetizer items for this area:
Fried Jalapeno Mac and Cheese Bites
These were small enough to pop in a mouth, not to messy and still just the right amount of jalapeno to be Texan. With that, we had Tiny Soft Pretzels
Tiny Texas Soft Pretzels
Just like you'd see at the State Fair – only much smaller. Those were displayed in individual tiny "bowls" with just enough room to add mustard and let the client dip their pretzel, eat it and keep walking toward the next department.
Beef flights, similar to a wine tasting only with beer, created the theme for the next department. Since the guests were going to be offered a collection tiny samples of four to five beers, we catered more of a Texas Saloon theme catering menu and served:
Original Beer Nuts
These were displayed in a clear acrylic cowboy hat with small shot glasses to scoop the peanuts into so they could continue on their journey to the next department.
Bacon Caramel Popcorn
Our house made fresh popcorn which was tossed with peanuts and crumbled bacon, then in a maple caramel glaze.  We served this tiny clear mugs to resemble a beer mug to compliment the saloon theme. A successful beer-fest was had and then on to the next department.
The send-off was Cobbler. Tiny Peach and Cherry cobblers in tiny cups, with a tiny crust garnish and of course whipped topping.  Easy to carry and eat while headed down to the main floor, jump on the bus and head out to dinner.
Need a themed menu for your next event?