Want a perfect holiday  
party catering menu idea for your office party?
Lately, you can find catering trends for everything – for weddings, cocktail parties, corporate events and even family gatherings. Trends include service styles, menu themes and even menu items and their sizes.  Growing in popularity for holiday catering is Breakfast for Lunch or what we'd like to call the Brunch for Lunch menu. This is  Instead of a traditional continental breakfast or cocktail party so often served for corporate holiday parties, consider a holiday brunch reception.
Everyone loves breakfast! From eggs, bacon, sausage and potatoes to French toast, pancakes and  waffles, there are so many breakfast options you can serve!  Why not change your corporate holiday lunch to a brunch and include these favorite foods? Accompany these favorites with some fresh salads, fresh fruits, yogurt and you can create a new and different corporate holiday brunch menu sure to please.
Brunch casseroles like quiches, frittatas and stratas are a great way to incorporate eggs into a lunch menu. Add some breakfast meats, bacon, sausage or ham, some breakfast potatoes and some fabulous salads. Fresh fruit salad is a must for sure.  However you can also add a great spinach salad – either a traditional salad with mushrooms, egg and hot bacon dressing, or, add one with fresh strawberries, walnuts, pecan or almonds, drizzled with a balsamic vinaigrette for more modern salad. Salad greens topped with feta cheese, dried cranberries and nuts also create a perfect brunch salad.
Don't stop with just an egg dish, add some French Toast, pancakes or waffles to the menu for the sweeter side of breakfast.  For a special touch, offer traditional syrups, jams, jellies, fresh berries or flavored butters like maple butter, for toppings. Stuffed French toast is another great item to add to a brunch menu. French toast can be stuffed with fruits, flavored cream cheeses or jams for a special treat.  Or, stuff the French toast with ham and Swiss cheese, called a Monte Cristo, for a more savory addition to a holiday catering menu. You can also use turkey and a variety of other cheese like Gouda to create this perfect brunch menu item.
For the continental breakfast contribution to the menu, add some great muffins, savory or sweet cornbread, biscuits and scones are perfect for a brunch menu. Coffee cakes and cinnamon rolls are another good menu choice to consider adding to your brunch menu. Because there are so many varieties of each of these, have your professional caterer offer suggestions and ideas on which menu items to incorporate into your office party catering brunch menu.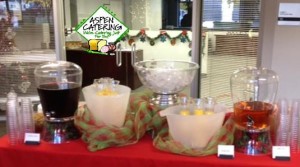 Brunch beverages should include some great coffee, flavored teas and fruit juices. Punches also are a perfect beverage choice, served with or without alcohol, and there a hundreds of punch recipes that will complement your menu. Alcoholic beverage options commonly served a brunch include the Bellini, Mimosa and Bloody Mary. How many people you're hosting will determine how many options you should plan on offering.
For something new for the holidays, try brunch for lunch and let's get started!