All Day Business Meeting Catering
All Day Meeting Catering Menu Options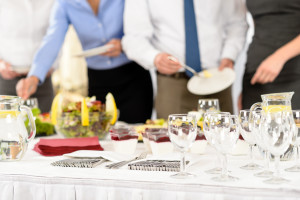 When you have all day meetings, its important to provide plenty of food and beverages to the group that is served easily and efficiently.  Your office catering menu should Start off with a simple breakfast, possibly a mid-morning snack and then a more substantial lunch and then an afternoon break.  Beverages can include coffee, juices, bottled water, iced tea and soft drinks which should really be available for the duration of the meeting time.
To make ordering simple, we created these All Day Catering Menus…just for you!
Choose either a Fresh From the Deli All day Catered Meals or cater them with hot breakfast and lunch from out  Hot from the Oven All Day Meal Menu.
Fresh From the Deli All Day Meals
Continental Breakfast
Breakfast Bonanza
Our best selection of mini muffins, Danish, iced cinnamon twists, party croissants, mini bagels and cream cheese and all butter coffee cake slices
Fresh Fruit Kabobs
Skewers of cantaloupe, pineapple and  fresh strawberries
Lunch Fresh From the Deli
Your choice of Sandwich served Buffet Style:
Assorted Signature Sandwiches Or Aspen Wrap Sandwiches
Your choice of Two Side Items:
Pasta, Potato or Fruit Salad, Parmesan Chips or Individual Bags of Chips
Assorted Gourmet Cookies
Afternoon Snack
Fruit and Nut or Cajun Trail Mix
Mini Bars for Stars Dessert Bars
An assortment of fudge brownies, lemon squares and coconut chocolate bars
Fresh from the Oven Hot Meal All Day Catering Menus
Hot Breakfast
Breakfast Sandwiches
Egg, cheese and your choice of bacon, sausage or ham
Biscuit Sandwich Breakfast Taco
OR  Your choice of Breakfast Casseorle:
Moms Country Casserole
Dad's Country Casserole
Breakfast Frittata
Baked French Toast
Fresh Fruit Kabobs
Skewers of cantaloupe, pineapple and  fresh strawberries
Lunch Hot From the Oven
Your choice of one Entree:
Roast Beef and Gravy
Burger Bar
Rotisserie Style Chicken
Rosemary Chicken
Garden Smothered Chicken
Sliced Turkey and Gravy
Chicken with Plum Sauce
Spaghetti and Meatballs
Baked Ziti
Meat or Veggie Lasagna
Your choice of one:
Garden or Caesar Salad Or 1 Starch and 1 Vegetable Dinner Side Items
Assorted Gourmet Cookies
Afternoon Snack
Fruit and Nut or Cajun Trail Mix
Mini Bars for Stars Dessert Bars
An assortment of fudge brownies, lemon squares and coconut chocolate bars