We can take care of all the details for your next Corporate Breakfast Catering

Whether freshly baked pastries are what you seek, or hearty eggs, bacon and biscuits is what you need, you'll find all your favorite corporate breakfast catering options right here. Here is a sample of our breakfast catering menu and we can create custom menus for your specific needs.  Pick your breakfast menu and  your Catering Delivery Option and we'll take care of the rest!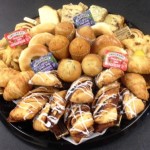 Continental Breakfast Catering
Our Continental style breakfast catering menu items are baked fresh daily. Muffins, Danish, Cinnamon twists and more just perfect for a light breakfast offering. Pick our best breakfast catering assortment or, select just what you want for your next corporate or office breakfast meeting.
Hot Breakfast Catering Menu
Our hot breakfast catering menu includes hot biscuit sandwiches, breakfast tacos and hot breakfast buffets of scrambled eggs, bacon, sausage, breakfast potatoes and of course, buttermilk biscuits and gravy. Our Baked French toast and other hot egg casseroles offer a treat when corporate hot breakfast catering is needed.
Compliment your order with our
Great Breakfast Catering Additions
and don't forget about  Beverages

Continental Breakfast Catering Menu
Breakfast Bakery Bonanza Catering

Our best selection of mini muffins, Danish, iced cinnamon twists, party croissants, mini bagels and cream cheese and all butter coffee cake
Small     Feeds 8-10     Medium Feeds 12-15     Large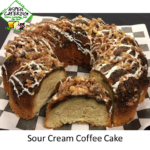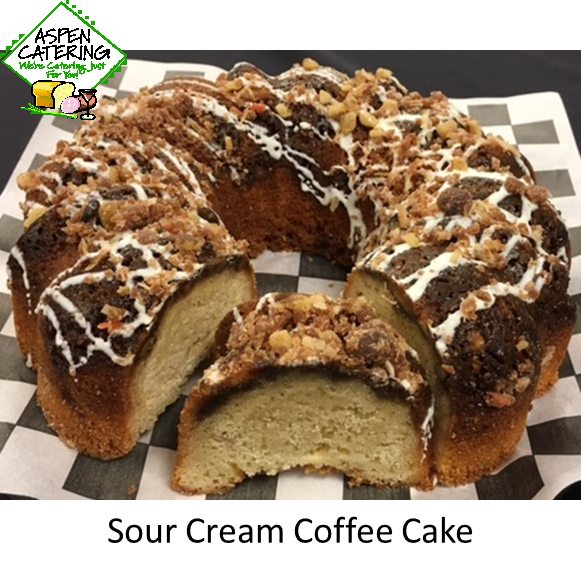 Feeds 18-20
Old Fashioned Sour Cream Coffee Cake
Old fashioned sour cream bundt cake baked with cinnamon and walnuts, finished white chocolate drizzle and a cinnamon crumb topping. (Serves 12-16)
Jumbo Cinnamon Rolls
Freshly baked colossal cinnamon rolls (8 rolls per pan) Serves 8-10
Breakfast by the Dozen
Sliced All Butter Coffee
An assortment of lemon glazed, marble chocolate chip,orange poppy seed and cinnamon streusel
Mini Muffins
Blueberry and Banana Nut Muffins served with butter
Mini Cinnamon Rolls
Party sized cinnamon rolls drizzled with sweet white icing
Mini Bagels and Cream Cheese
Party size bagels with veggie cream cheese serves
Mini Assorted Danish
Our assortment of maple pecan, vanilla, raspberry, cinnamon swirl and apple party sized danish

Hot Breakfast Catering Menu
For a Group – serves 8-16
Mom's Country Casserole
Only Mom could create this egg, cheese and sausage casserole – a great alternative to quiche
Dad's Country Casserole
Same great casserole that Mom makes only with eggs, ham, green pepper, onion and cheese -like a Denver omelet only in casserole form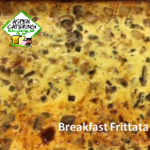 Breakfast Frittatas (Serves 8-12)
A fluffy mixture of eggs, veggies, and cheese baked to a golden brown
Denver
Ham, green pepper, onion and fresh mushrooms
Vegetable
Potatoes, mushrooms, peppers and a hint of onion along with two cheeses
Sausage and Cheddar
Sausage, cheddar cheese cheese, peppers and onions
Breakfast Quiches (Serves 8-12)
Quiche Lorraine
Classic quiche with Swiss cheese and bacon
Cheddar Mushroom Quiche
Cheddar cheese, fresh sauteed mushrooms and green peppers
Western Quiche
Ham, cheddar cheese, green peppers and onions
Baked French Toast
Baked with a hint of cinnamon and sweet breakfast syrup
Cranberry Orange French Toast
Our house made baked French toast with a hint of orange, dried cranberries, and our sweet orange vanilla sauce
Hot Oatmeal Bar
Piping hot oatmeal served with brown sugar, raisins, chopped walnuts and butter
Cranberry Almond Oatmeal
Piping hot oatmeal served with brown sugar, dried cranberries, slivered almonds and cinnamon
Individual Hot Breakfast Catering Menu
Texas Break-Feast
A buffet of scrambled eggs, bacon, sausage, biscuits, country gravy & breakfast potatoes served with butter, honey & jelly
Breakfast Catering Biscuits, Sandwiches, and Burritos
Biscuit Sandwiches
Southern buttermilk biscuits stuffed with scrambled eggs & cheddar cheese with bacon, sausage or ham
Breakfast Tacos
Include egg, cheese and your choice of bacon, sausage or ham in a flour tortilla
Breakfast Bagel Sandwiches
Egg and cheese,or egg, cheese and your choice of bacon, sausage om a party sized bagel
Extra Large Breakfast Burritos 
Scrambled eggs, cheese and breakfast potatoes with your choice of sausage, bacon or ham all rolled up in a flour tortilla – a complete meal in a breakfas sandwich
Kolaches
Our special recipe of sausage and cheddar cheese blanketed in a buttermilk biscuit  (by the dozen)
Your Catering Delivery Options

Great Breakfast Catering Additions
Fresh Seasonal Fruit Trays
The season's best selection of cantaloupe red grapes and Hawaiian gold pineapple served with fruit dip
Small Feeds 20-30  Medium Feeds 35-45  Large Feeds 45-60
Fresh Fruit Kabobs (by the dozen)
Skewers with a cantaloupe, pineapple and a fresh strawberry
Fresh Fruit Cup
Chunks of seasonal fresh fruits like golden pineapple, melons, seedless grapes and berries
Yogurt Granola Station (serves 8-10)
Build your own parfait with yogurt, fruit and granola crunch
Assorted Yogurt
Greek Yogurt Cup
Breakfast Potatoes
Seasoned diced potatoes with green peppers and a hint of onion
Breakfast Bacon or Sausage