Party Tables, Linens & Chair Rentals
Party Tables
Your reception venue or party hall may include banquet tables, guest tables and chairs as part of your venue rental fee, and some may charge a fee for using those, with an additional fee for setting them up and taking them down, while other party halls or reception venues may not. Be sure to check your venue agreement for all the details! Tables used for special event caterings are typically called Banquet tables or Round tables.
Banquet Catering Tables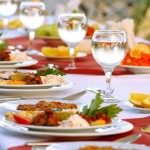 The most common party rental tables often referred to by their shape and length with the most common rental table sizes being rectangular tables in lengths of 6 foot and 8 foot. These are rectangular tables in various lengths so be sure to ask what size will be used so any table linens you use will adequately cover the table. An 8 foot (') table is commonly called an 8' Banquet table. When you hear banquet table, HEAR rectangular. These are typically used for buffets, beverage stations and sometimes, for seating.
Round Catering Tables
Round tables for catered banquets and wedding receptions are called by their diameter in inches (") so a 60″ round table is called a 60″ round. The most common rental table sizes for round tables are 48″, 60″ and 72". Larger round tables are often used for guest seating while the smaller ones can be used for Wedding Cake tables, chocolate fountain tables, sweetheart tables and childrens' tables. Linens aer made for each size table so knowing what you'll be using will be important when it's time to make either rent or purchase your table linens. For more information on how many guests can sit at a table, see our  Party Rental Table Seating Guide or ask us to design you special event.
Cocktail Leaners or Highboys
Another type of party rental table is a cocktail leaner or highboy. These are taller than ordinary tables and designed so guests can stand around them and though the do not require chairs, rental chairs are available that are tall enough for these tables. When you rent these tables, most people plan for their guests to "rest" their food and drink on the table while eating. Special event catering menus should be designed for one to two bite items if these type of tables are going to be used. These are great for a cocktail party, to supplement guest seating already being used and when you want guests to mix and mingle. Our Party Rental Table Seating Guide can help you with how many you need or ask us and we'll desing it for you.
Party Linens
Linens may also be included in your venue rental or, they may be an additional charge. Some party halls don't have linens but your caterer might. Linens come in a myriad of sizes and colors and different tables require different sizes and how long you want the linens will also determine what size you'll need. For an idea on table sizes and seating capacity for tables, and linen choices, here's a handy Party Rental Table Seating Guide to show you what options you have.