Select from these Popular Party Catering Trays
The most popular party trays for catering include fruit trays, vegetable trays and fruit and cheese trays. These are all standard party tray items on most catering menus. Add them to a breakfast catering, lunch catering or make them a snack on thier own for a business meeting break.
Fresh Fruit Trays | Fruit and Cheese Trays | Garden Vegetable Trays | Mini Deli Sandwiches | Party Dips & Afternoon Snack Catering
Fresh Seasonal Fruit Trays
The season's best selection of fruit like Hawaiian gold pineapple, cantaloupe, red grapes & strawberries
Small Feeds 20-30 | Medium Feeds 35-45 | Large Feeds 45-60
Garden Fresh Vegetables
Garden fresh broccoli, carrots, cherry tomatoes, celery and cucumbers accompanied by a creamy ranch dip
Small Feeds 10-15 | Medium Feeds 25-30 | Large Feeds 35-40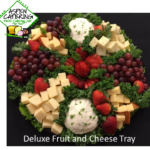 Fresh Fruit and Cubed Cheese Trays
Fresh seasonal fruits surrounded by Muenster, Gouda and Havarti cheeses with assorted gourmet crackers
Small Feeds 20-25 | Medium Feeds 35-45 | Large Feeds 50-60
Fresh Fruit Kabobs
Skewers of fresh pineapple, cantaloupe and strawberries
Marinated Vegetable Tray
Fresh marinated grilled squash, asparagus, mushrooms pepper strips and tomatoes
Other Party Dips & Snacks
Garlic Hummus and Vegetables
A traditional Greek dip made with chickpeas blended with roasted garlic and lemon juice served with fresh garden vegetables, serves 15-25
7 Layer Dip
Shredded cheddar, refried beans, avocado, sour cream, diced tomatoes, black olives & chives accompanied by tri-colored tortilla chips (Serves 20-25)
Black and White Hummus
A swirl of Aspen's own black bean and garbanzo bean hummus served with oven fired flat bread strips
Creamy Artichoke Dip
Parmesan cheese, spinach & artichoke hearts baked to a golden brown served with toasted flat bread strips. Serves 35-40
Mango Pineapple Salsa
Tropical mango and pineapple salsa served with cinnamon flat bread strips
Sun-dried Tomato Spread
A creamy spread of sun-dried tomato and 3 cheeses baked to a golden brown served warm with garlic toast and crackers
Mandarin Salsa
Diced mandarin orange sections tossed with fresh tomato, onion, a hint of jalapeno and lime juice. Serve with tortilla chips
Fire Roasted Salsa and Chips
Bruschetta
Diced fresh tomatoes marinated with herbs served with garlic toast slices
Zucchini Feta Bruschetta
Herb marinated diced tomatoes and zucchini tossed with Feta cheese, served with garlic toast slices
Texas Caviar
Marinated black beans with diced green peppers, tomato & onions, served with tortilla chips
Caponata
Fresh eggplant, onion, celery, tomatoes, olives tossed with capers and a hint of red wine vinegar served with garlic party toast
Nacho Bar
Build your own nachos with taco beef, refried beans, queso, sour cream, picante sauce, sliced jalapenos, lettuce and diced tomatoes
Cajun Trail Mix
Specially seasoned nuts, spicy Cajun sesame sticks and crunchy Corn Nuts
Fruit and Nut Trail Mix
A blend of expertly roasted nuts, delicious raisins, and other high-quality fruit and cranberries.
Other Party Favorites
Mini Deli Sandwiches
Smoked turkey, ham & roast beef with assorted cheeses & lettuce served on golden egg bread with cups of mayonnaise & mustard. Sold by the dozen
Mini Salad Sandwiches
Our tuna, all white meat chicken salad and smoked chicken salad with green leaf lettuce on our own freshly baked golden egg rolls. Sold by the dozen
Veggie Cream Cheese Pinwheels
Veggie cream cheese & shredded lettuce rolled up in tomato & garlic tortillas sliced into bite sized treats 24 pieces