Sandwich Tray Catering
Sandwich Tray Catering
All sandwiches on our sandwich platters are cut in half and arranged on premium black catering trays for buffet style service. Pick from our more popular assortment or, create your own sandwich tray catering with our variety of sandwiches, wrap sandwiches and entrée salads. The combination is perfect for any gathering you're hosting and should offer all your guests a perfect lunch.

Sandwich Tray Catering
Aspen Signature Sandwich Catering Trays
Our most popular sandwich platter featuring our exclusive Signature Sandwich assortment found at Aspen Catering. Gluten Free Bread available
Aspen Wrap Sandwich Catering Trays
This sandwich platter assortment is created with our Aspen Wraps.  All sandwiches are made with flour tortillas instead of bread.
Aspen Deli Sandwich Catering Trays
Your traditional ham, turkey and roast beef deli sandwich buffet. The assortment includes sandwiches with and without cheese, tuna and chicken salad on our freshly baked wheat and white breads and creates a great sandwich platter. Gluten Free Bread available
Sliced Meat and Cheese Catering Trays
A showpiece of a deli meat platter featuring sliced turkey, roast beef, ham and cheese served with lettuce, tomato, and our famous sandwich rolls. Gluten Free Bread available
Entree Salads Buffets
Entrée Showcase Salads
Crisp fresh salads are a great addition to or alternative from sandwich trays and sandwich platters.  Mix and match with sandwiches and you'll create a wonderful office lunch buffet
Pick your Catering Delivery Options


Aspen Signature Sandwich Catering Trays
We've assorted these sandwiches…just for you. Your selection of sandwiches are cut in half and arranged on trays to serve buffet style.  Select your tray type and size; add your sandwich side items, beverages and desserts to create your perfect lunch.  Gluten Free Bread available
SMALL 4 sandwiches (8 halves)
The Aspen, Aspen's Grilled Chicken, Colorado Club and Alpine
MEDIUM  8 sandwiches (16 halves)
The Aspen, Aspen's Grilled Chicken, Colorado Club, Alpine,Turkey Avocado, Black Forest and Santa Fe
LARGE 12 sandwiches (24 halves)
The Aspen, Aspen's Grilled Chicken, Colorado Club, Alpine,Turkey Avocado, Black Forest and Santa Fe, Smoked Chicken Salad and Italian Hoagie
Or, Create your own assortment of signature sandwiches on trays
More About Our Signature Sandwiches:
Aspen Sandwich
Lean roast beef, smoked turkey, cheddar cheese, lettuce, tomato & onion
Aspen's Grilled Chicken Sandwich
Grilled chicken breast with lettuce & tomato served on wheat
Alpine Sandwich
Peppered turkey, Swiss cheese, lettuce & tomato
Colorado Club Sandwich
Smoked turkey & cheddar cheese on top of ham & Swiss cheese with bacon, lettuce & tomato
Turkey Avocado Sandwich
Smoked turkey, Swiss cheese, guacamole & tomato
Italian Hoagie
Baked ham, salami, provolone cheese, lettuce, tomato, pepperoncinis and onions with an herb dressing
Black Forest Sandwich
Piles of shaved ham with provolone cheese on top of sun dried tomatoes, green peppers & onions
Santa Fe Sandwich
Roast beef, pepperjack cheese, guacamole, lettuce & tomato
Vegg-Out Sandwich
Pepperjack cheese, parmesan cheese, guacamole, onions, green peppers, lettuce, and tomatoes
Smoked Chicken Salad
A smoky version of our housemade chicken salad
Bacon Jack Chicken Sandwich
Grilled chicken breast with bacon, pepperjack cheese, tomato, onion and lettuce 
Pick your Catering Delivery Options


Aspen Wrap Sandwich Catering Trays
We've assorted these sandwich platters…just for you. Your selection of sandwiches are cut in half and arranged on trays to serve buffet style. Select your tray type and size; add your sandwich side items, beverages and desserts to create your perfect lunch
SMALL 4 sandwiches (8 halves)
Turkey, Chicken Caesar, The Denver and Chipotle Beef
MEDIUM  8 sandwiches (16 halves)
Turkey, Chicken Caesar, The Denver, Chipotle Beef, Honey Chicken, Pepper Jack, Greek Chicken and Black and Bleu
LARGE 12 sandwiches (24 halves)
Turkey, Chicken Caesar, The Denver, Chipotle Beef, Smoked Chicken Salad, Greek Chicken, Black and Bleu, Pepper Jack Turkey, Tuna Salad and Honey Chicken
Or create your own assortment of wrap sandwiches
More About our Aspen Wrap Sandwiches:
The Denver
Sliced Ham, cheddar cheese, green peppers, onion and honey mustard dressing
Smoked Turkey
Smoked turkey, pepper jack cheese, lettuce, green peppers, onions & honey mustard dressing
Chicken Caesar
Crisp romaine, parmesan cheese & grilled chicken with Caesar dressing
Black and Bleu
Roast Beef, onion, lettuce, tomato & bleu cheese dressing
Chipotle Beef
Shaved roast beef, lettuce, tomato, onion and cheddar cheese with chipotle mayonnaise
Veggie
Guacamole, pepper jack & parmesan cheeses, green peppers, onions, tomatoes & lettuce
Tuna, Chicken Or Smoked Chicken Salad
Your salad choice with lettuce & tomato
Chicken Fajita
Strips of fajita chicken breast, onion, green pepper, sour cream, shredded cheese, lettuce & tomato with picante sauce
Pepper Jack
Peppered turkey, pepper jack cheese, green pepper, onion, lettuce & tomato with spicy mayonnaise
Greek Chicken
Grilled chicken, black olives, pepperoncinis, lettuce & tomato with chunky feta cheese dressing
BBQ Chicken
Grilled chicken, bacon, onion, lettuce & tomato with BBQ sauce
Honey Chicken
Grilled chicken, tomato, egg, onion, shredded lettuce with honey mustard dressing
Pick your Catering Delivery Options



Aspen Deli Sandwich Catering Trays
More About our Deli Sandwiches:
Traditional deli meat, meat and cheese and tuna or chicken salad sandwiches
SMALL 4 sandwiches (8 halves)
Ham, oven roasted  turkey, roast beef with Swiss and cheddar cheeses, lettuce & tomato on our freshly baked French white & wheat breads
MEDIUM  8 sandwiches (16 halves)
Ham, oven roasted turkey, roast beef with Swiss and cheddar cheeses, lettuce & tomato on our freshly baked French white & wheat breads
LARGE 12 sandwiches (24 halves)
Ham, Oven roasted turkey, roast beef with, Swiss and cheddar cheeses along with our homemade tuna & chicken salad, lettuce & tomato on our freshly baked French white & wheat breads 
Or, create your own assortment of catered deli sandwiches on trays
Mo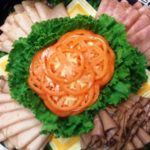 re About our Sliced Meat and Cheese Trays:
Sliced Meat and Cheese Trays
Sliced ham, turkey, roast beef, peppered turkey, along with cheddar, Swiss and
pepper jack cheeses and served with white and wheat breads, lettuce and fresh tomato slices  Gluten Free Bread available
Small Makes 16 half sandwiches
Medium Makes 22 half sandwiches
Large Makes 30 half sandwiches
Sandwich Tray Side Items
Individual Bags of Chips
(Lays, Baked Lays, Sea Salt Kettle, BBQ, Jalapeno Kettle and Doritos)
Parmesan Chips
Fresh Fruit Cup
Potato Salad
Pasta Salad

Pick your Catering Delivery Options