How to Grill Sweet Potatoes
Sweet Potatoes can be prepared so many ways: mashed, baked, whipped or grilled and we've served them all. Having recently served these as grilled wedges, we wanted to share
How to Grill Sweet Potato Wedges: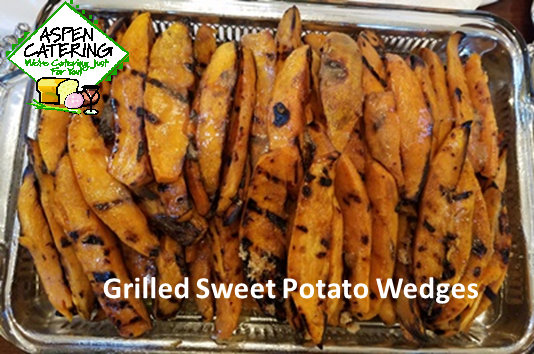 Here's how we made ours:
More info on this mighty potato
Select medium size sweet potatoes with no bruises or blemishes and with as few curves as possible.
Wash and if desired, peel them. Peeling the skin off isn't necessary and you can do this step ahead of time since sweet potatoes down turn brown like other potatoes would.
To cut sweet potatoes into wedges start by cutting the potato in 1/2 lengthwise
Turn halves cut side down and cut in 1/2 again creating a quarter of a potato
Take each 1/4 section and flip so the peeled or skin side is on the cutting board and the thin side is up and then cut in half again. Once you're done you should have at least 8 potato wedges per potato. You can also slice the potato into coins or circles if you prefer that shape. Because you don't want all the food being served to be the same shape, cut your potatoes to compliment the rest of your menu.
See how to cut potatoes compliments of North Carolina Sweet Potato Commission.
Place wedges in a bowl and drizzle with some oil (we used canola oil). Do not drench them or the oil will make the potatoes gray once on the grill.
Turn the grill on high to get the grates hot. Once the grates are hot, place the potato wedges directlly on the grill grates for about 3 minutes. Flip the wedge over and grill the other side for 3 minutes. This is just to get the grill marks on the potato but not to completely cook them.
Once the wedges are grill marked on both sides, place grilled wedges in a heat safe pan, dish or an aluminum foil pouch. Bake in a pre-heated oven until the potatoes are soft – about 20 minutes.  You want the potatoes soft which depends on the size of your wedges. Thicker potatoes will need more time, thinner ones might only need 10 minutes in the oven.
Once they're done, remove from the oven, toss with a little melted butter, brown sugar and a hint or cinnamon sugar.
According to our client we had a home run and we hope you will too!