Office Open House Catering
Open House Catering
Why Host an Open House?
Office Open Houses are a great way to show your clients appreciation for the patronage they've shown you and show off your accomplishments in obtaining a new address. If you're moving to a new location, recently moved or even just expanded your current office space, warehouse or showroom, hosting an Open House Catering is great way for your clients to get to see your new location, get to know your staff, where you work and a behind the scenes look at what you do and how you do it.
Who to Invite?
Other guests and dignitaries should be considered on the invitation list like your local Chamber of Commerce staff and economic development employees, key vendors, and local government officials.  If you used the services of real estate professionals to assist you in the purchase, rent or lease of your new address, be sure to include them on your guest lists too. The more people you invite from the different facets of your business, the more buzz you'll get and word of mouth is priceless!
We had the privilege of catering Mojo Media Labs for their Open House to show off their new location. Even though they moved within the same building, their new suite was something to be seen. Panoramic views of Las Colinas, wide open work spaces and a very accommodating staff made this Open House catering a success.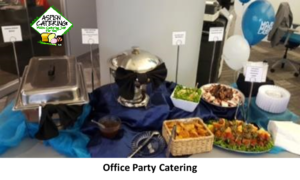 Where Should the Food and Beverage Go?
We recommend that you place menu items throughout you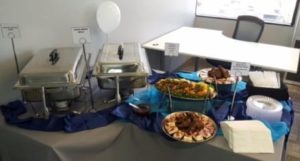 r space, so as guests tour the facility, there are treats for them along the way. You can also use exisitng furniture for buffet stations like a, board room table, reception area counter and in rooms or areas you really want your guests to see. You caterer can help you with what should go where. It's a great way to create the path guests will take to see all the areas you want the to see.
What Open House Catering Menu?
What kind of menu did they wish to offer their guests? Something easy to carry, eat and walk around with so they could explore the different office areas. To accomplish that, we set up two buffet stations, one on either side of their large space so guests could get a bite or two no matter which part of the suite they were in. The items were small and bite sized with little sauce to avoid spills and drips as people traveled around the suite.
If you have a theme in mind, a professional caterer can help design a perfect menu with items that coordinate with your theme. Use your company history, logo, location or even your favorite foods as inspiration for creating your menu.
Mini buffalo chicken bites filled with blue cheese and celery
Chopped cabbage, celery, mushrooms, carrots and water chestnuts wrapped in a delicious spring roll wrapper
Asian Cocktail Meatballs
Asian inspired cocktail meatballs with a tangy soy plum dipping sauce
Diced fresh tomatoes, zucchini and green onion marinated with herbs served with garlic toast slices
Fresh Cantaloupe and pineapple chunks skewered with a fresh strawberry
Decadent fudge walnut brownies studded with chocolate chunks
Mini Raspberry Swirl Cheesecake Bar
Smooth white chocolate cheesecake swirled with fresh raspberry puree on a chocolate cookie crust
Finally, to thank your guests for attending your party and to provide them a token or two, make up gift bags with branded items in it to hand to your guests as they depart. It will allow them to carry your company name with them and remind them of your business and hospitality.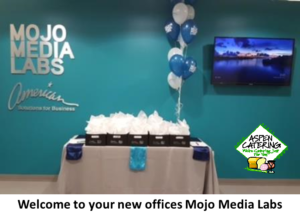 Want to cater your Office Open House?