Special Event Breakfast Brunch Catering
Special Event Breakfast Brunch Catering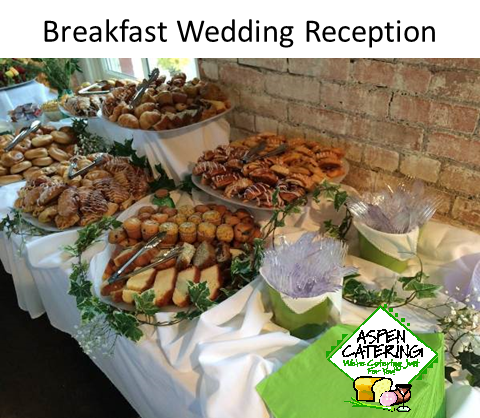 Special Event Breakfast Brunch Catering can be a great alternative to an ordinary box of doughnuts and some coffee. Adding some hot breakfast brunch casseroles or other breakfast brunch catering menu items, along with fresh fruit and pastries can create a wonderful menu option for your guests. And with today's trend to serve breakfast for lunch, this menu can be served for any special event you're hosting no matter what time of day.
For weddings, breakfast and brunch is a great option for wedding reception catering as a buffet, or as a plated meal. Instead of a cake, consider offering a doughnut cake or pastriy cake tower to compliment the menu. Read More
Hot Breakfast Brunch Catering Menu
Breakfast and Brunch Casseroles
Mom's Country Casserole
Eggs, cheese and sausage create this quiche like casserole
Dad's Country Casserole
Eggs, cheese and ham, peppers, onions and cheese
Breakfast Frittata
Eggs, veggies, and cheese baked to a golden brown
Breakfast Denver Frittata
Eggs, ham, green peppers, mushrooms and a hint of onion
Baked French Toast
Baked with a hint of cinnamon and sweet breakfast syrup
Cranberry Orange Baked French Toast
Our house made baked french toast with a hint of orange, dried cranberries, and our sweet orange vanilla sauce
Hot Oatmeal Bar
Served with brown sugar, walnuts, raisins, and butter
Cranberry Almond Oatmeal Bar
Served with dried cranberries, almonds and brown sugar
Hot Individual Breakfast and Brunch Catering Menu
Texas Break-feast
The ultimate breakfast feast with scrambled eggs, bacon, sausage, biscuits, country gravy and breakfast potatoes
Eurway Omelet Bar
Hot omelet ready for the filling of your choice: sautéed onions, green peppers, mushrooms, diced ham, bacon, and sausage along with cheddar and Swiss cheese
Breakfast Sandwiches
Egg, cheese and your choice of bacon, sausage or ham
Biscuit Sandwiches
Scrambled egg, cheese and your choice of bacon, sausage or ham
Breakfast Tacos
Scrambled egg, cheese and your choice of bacon, sausage or ham in a flour tortilla, served with salsa
Breakfast Bagel Sandwiches
Scrambled egg, cheese and your choice of bacon, sausage or ham on a mini bagel
Breakfast Extras
Breakfast Potatoes
Seasoned diced potatoes sautéed with green pepper and onion
Party sized Potato Pancakes
Sausage Patty or Bacon 2 slices
Continental Breakfast and Brunch Catering Menu
Bakery Bonanza
Mini muffins, Danish, mini cinnamon rolls, all butter coffee cake, party croissants, mini bagels and cream cheese
Sour Cream Coffee Cake
Bundt cake baked with cinnamon, walnuts and white chocolate drizzle and a cinnamon crumb topping (Serves 12-16)
All Butter Coffee Cake Slices
An assortment of lemon glazed, marble chocolate chip, orange poppy seed and cinnamon streusel
Mini Bagels and Cream Cheese
Party size bagels and cream cheese
Assorted Blueberry and Banana Nut Mini Muffins
Assorted Mini Danish
Maple pecan, vanilla, raspberry, cinnamon swirl and apple
Fruit and Yogurts Breakfast and Brunch Menu Items
Small serves 20-30
Medium serves 35-45
Large serves 45-60
Yogurts

Regular
Individual cups of flavored yogurt
Yogurt and Granola
Build your own parfait with vanilla yogurt, fruit and crunchy granola
Greek Yogurt
Individual cups of Greek yogurt
Breakfast Pudding
Also called overnight oatmeal, this sweet creamy oatmeal and yogurt combination is a great alternative to yogurt and granola. Must be ordered at least 24 hours in advance.