Wedding Catering with a Breakfast Menu
Wedding Catering with Breakfast
Last week we had the privilege of creating and serving a Wedding catering at the Eisemann Center in Richardson. What did the bride want? Breakfast! So we cooked up some great breakfast Casseroles with plenty of eggs, cheese, sausage and ham and for those who can't eat meat, a vegetable frittata. Baked French Toast and Breakfast Potatoes rounded out the hot portion of the menu. To that, we added an array of fresh baked pastries, mini muffins, coffee cake,  party size bagels and fresh fruit. To compliment the breakfast menu, beverages were coffee, iced tea, fresh juices and mimosas.
With most wedding celebrations including a cake, and because this
was a breakfast, we suggested a doughnut cake to keep with the breakfast theme. The bride was thrilled with that idea and asked if we could use her choice of flavors – plain cake doughnuts, blueberry cake doughnuts and chocolate cake doughnuts. But, she also wanted a two tier cake with her cake topper on it so, that's exactly what we used.
To create the cake, we layered the doughnuts on a cupcake tower and toped that off with a simple white two layer cake, which created a show piece, just what wedding cakes do. To tie the white cake into the doughnut look we sliced several doughnuts in half and pressed those onto the tiers to complete the wedding "cake". And then to make is easier for guests to select their doughnuts, we placed the cupcake tower on a lazy Susan so they could spin the tower around and select their perfect doughnut.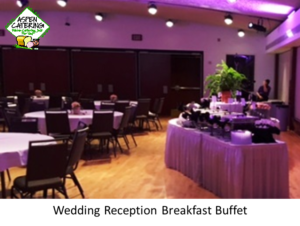 You can do the same with muffins, bagels, croissants or any other breakfast pastry you want for your breakfast wedding catering.
Congratulations to the new Mr. and Mrs.! May you have a very happy and wonderful life!
Want help with your wedding catering?