Catering – Better than restaurant food delivery
What's better than restaurant food delivery? Catering!
Restaurant food delivery or catering – which is better? A Catering service is providing food and beverage service to off-site locations like venues, party halls, private residences or offices. They also cater different types of events like Business Catering, Special Event Catering and Wedding Catering. Depending on the catering company's menu and culinary abilities, they can and may provide breakfast catering menus, banquet menus and or wedding reception menus.
The Actual Delivery
A caterer will tell you a food delivery is not the same as a catered one. Most caters will deliver your order, unpack all your menu items, place settings and whatever else was ordered and set it up for you. A restaurant more than likely will deliver your food in bags or boxes, leaving you to unpack it and set it up. Restaurants may use their own food delivery personnel, or a hired delivery company but caterers typically use their own staff to transport and deliver food using insulated food carriers or other special equipment.
Types of Food Delivery
Business meeting catering can be upscale with china, flatware and glassware, complete with wait staff, or, more of a working lunch with a hot lunch buffet set up for guests to serve themselves. When time is limited and guests need to "work through lunch" box lunches can also be a great corporate catered meal. Most restaurants won't have the ability to provide different levels of service, professional caterers can. You can opt different types of delivery service with wait staff and bartenders, or a drop-off, set up (for guests to help themselves) and then a return trip to clean it up.
Special Event Food Delivery
Caterers are also in the business of providing an experience that coincides with the type of event you're having, restaurants probably can't.  For special occasions like grand openings, anniversaries, ribbon cuttings and wedding receptions, it's a caterer's responsibility to gather all the details of your event, suggest suitable catering menu items, prepare, provide, deliver and set up all of your food and beverage and any needed serving equipment. In some cases they will add décor to enhance the overall event. Special Event, Party Catering and Wedding Catering can also be formal, casual or designed with a theme in mind. Restaurant food delivery probably can't do all that.
Serving Your Food Delivery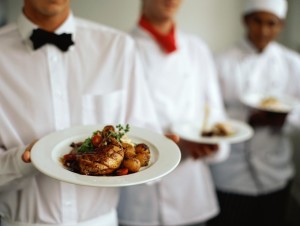 The actual serving of your menu depends on the service you want, and these types of events typically include wait staff to monitor the food and beverage and serve your guests. If you're offering cocktails or other alcoholic beverages, professional bartenders can be provided by most catering companies. Restaurant food delivery probably won't include all of that.
Food Delivery Menues
Caterers also have menus for all occasions and all budgets from economical to extravagant. So, if you're looking for places that deliver food, restaurants are one option; but caterers are your best one. They'll simply have it all!