Extraordinary Box Lunch Catering
Box Lunch Catering can be more than a sandwich and chips!
We were asked to create some upscale and unique box lunch catering menu ideas using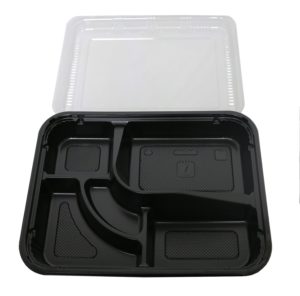 Bento boxes as the container. Since the request included offering three different entrée choices, an accompanying sauce, one starch, a vegetable and a salad, and some sort of bread, we first had to find the boxes that would hold all of that.
We sourced the boxes, got the dimensions of the compartments and then developed the recipes for the rest of the meal and created an extraordinary box lunch. For dessert, something simple was requested so we put two cookies tucked in a bag  which were placed on a napkin by the side of the box, not in the box. The end result: an upscale, jazzy box lunch that makes a statement visually, and that was tasty and perfect for an executive working lunch.
These can also be served when you want to make a big impression with prospective clients and customers, or for executive bus tours, air planes, jets, or when a catered plated meal or buffet service isn't an option.
H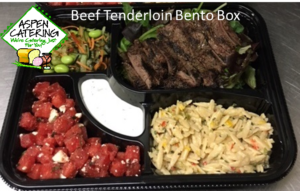 erbed Rubbed Beef Tenderloin
Herb rubbed grilled beef tenderloin steak served on a bed of spring lettuce with horseradish sauce
Grilled Orange Chicken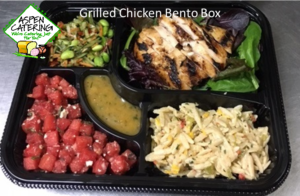 Grilled marinated chicken breast served on a bed of spring mix with orange garlic marinade
Grilled Chipotle Jumbo Shrimp
Jumbo chipotle marinated grilled shrimp served on a bed of spring mix  and a mild chipotle sauce
Orzo Pasta
Seasoned orzo pasta with green and red pepper accents
Grilled Oiled Flat Bread
Composed Salad
Asian Cucumber Salad accented with fresh peppers, carrots, edamame and toasted sesame seeds
Watermelon Feta Salad
Watermelon sprinkled with feta cheese served with balsamic vinaigrette
Gourmet Rocky Road Cookie
Chocolate cookie with white and semi-sweet chocolate chips, marshmallow bits and walnuts
Gourmet Sugar Cookie
Old fashioned buttery and sweet sugar cookie
Do you have an extraordinaty box lunch
you need created and catered?
Just tell us a bit about what you need and let our team go to work for you too!