How Sweet Potatoes Can Be
New! Sweet Potatoes have joined our menu!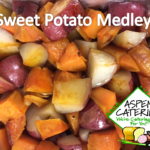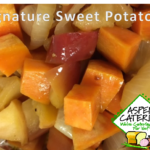 Aspen Catering's Signature Sweet Potatoes featuring our oven roasted sweet potato, tossed with crisp apples, brown sugar and a hint of onion
Aspen Catering's Sweet Potato Medley has cubes of fresh sweet potatoes and new potatoes lightly seasoned and then baked to perfection.
Baked Sweet Potato – just like our traditional baked potato bar with butter, cheese, sour cream and chives. Or, for a more sweet option, chose honey, brown sugar and maple syrup to create your perfect potato.

More About The Sweet Potato
A wonderful food packed with health benefits like antioxidants, anti-inflammatory nutrients, and blood sugar-regulating nutrients. They have a high amount of vitamin A, and some research indicates the sweet potato may contain more beta-carotene than those famous green leafy vegetables we've been told to eat.  They also are a good source of vitamin C, B6, B1, B2, niacin, fiber and potassium and who doesn't want more of all those?
Sweet potatoes can be orange, purple-fleshed or white fleshed. The orange colored are probably most common and typically called gold or have the word red in their title. Sweet potatoes should not be confused with yams though, in America, we use the name interchangeably, they are not the same! Yams are not nearly as available here as sweet potatoes and if your grocer is advertising yams, more than likely they are sweet potatoes. Since they can be the same color, don't use that to determine if you're buying a yam regardless of any sign. To buy true yams, you'll probably have to shop a specialty store.
When shopping for sweet potatoes, select firm, bruise-free potatoes with no cracks or soft spots and those not in the refrigerated section. Sweet potatoes should be stored in a cool, dark well-ventilated place not above 60°F since anything cooler can alter their taste. They should last up to 10 days if stored correctly.