How to Create an Outdoor Wedding Catering Menu
The Outdoor Catering Area
Catering an outdoor wedding menu starts with the actual outdoor area.
Where is it, what does it have there, and what do you need to be able to serve a catered meal? Is there any cooking equipment there like a grill? Running water? Work tables? If not, those things will have to be either rented or provided by your caterer in order to prepare your food.  And what is needed will depend on the menu you select.
The Weather
Weather is always a factor when planning an outdoor reception so a rain plan should be developed for the just-in-case moments Mother Nature might provide. Some sort of shelter should be in the plan whether the venue you chose has an indoor area available that can accommodate the number of people you'll have or if you have to rent a party tent, some consideration should be made for your guests…just in case. The same applies to areas with no real shade. On a bright and sunny day, guests will want to get under some shade after a while so consult a party tent rental company first to see what your local ordinances are for erecting tents and the do's and don'ts of hosting a party using a tent.
The Outdoor Catering Menu
Just about any catering menu is suitable for outdoors provided the preparation equipment is available and the necessary staging and food tables are there or can be brought in. Guest tables and seating also need to be set up and once all that is situated, any menu should be able to be prepared and provided.
We recently were asked to catered an outdoor wedding anniversary party at a client's home who was lucky enough to have plenty of space for guests to go inside should the weather turn inclement and an outdoor kitchen complete with a pizza oven! With the weather on our side, we created a custom menu to take full advantage of the oven and outdoor grill. The client allowed us free reign on the menu so we decided to start with some flatbread pizzas as the appetizers so guests could be entertained watching us prepare and bake those outside. Once the were finished, we passed the different pizza slices to guests as appetizers.
We selected three varieties of flatbread pizzas: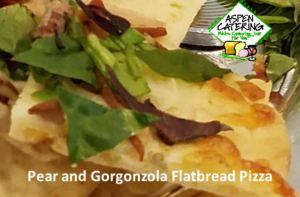 Fresh Pear and Gorgonzola Cheese
On warmed flatbread, we sprinkled mozzarella cheese, fresh pear slices and candied pecans then baked for about a couple of minutes. Once out of the oven we topped with fresh baby greens and house made balsamic glaze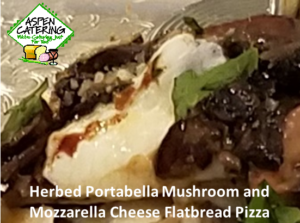 Herbed Portabella Mushroom with Fresh Mozzarella
Chock full of fresh herbs like rosemary, thyme, oregano, sage and parsley, we sautéed the sliced baby portabella mushrooms and refrigerated those overnight. The day of the party, we layered the pizza with fresh mozzarella, then the mushrooms and a sprinkling of Parmesan cheese and baked.
Open Faced Smoked Salmon
Flatbread toasted with sesame seeds and when cool, layered with Greek yogurt, very thinly sliced tomato, onion and cucumber. On top of that we placed the client's favorite smoked salmon and then garnished with capers.
On to the dinner menu using the outdoor grill, we served a wonderful and tender fresh herb marinated beef tenderloin which the client wanted made into sliders on our freshly baked rolls.  With that we also prepared lemon pepper shrimp, grilled sweet potatoes and vegetable kabobs. A dinner salad of baby greens, dried cranberries, feta cheese and walnuts was served with balsamic vinaigrette and desserts completed the meal.  Since the husband loves coconut, a two layer coconut cake was sliced and served while the wife's favorite is chocolate so a triple chocolate mousse tart enrobed in semi-sweet chocolate was created just for her. Sweet endings to a sweet celebration. Congratulations Tom and Dorothy on 30 years of marriage.
And what our client said:
…just wanted to let you know that your team knocked it out of the park last night. Everyone raved about the food, especially the appetizers – just wonderful. Dinner was great too. The beef was perfectly cooked, the rolls were just right, all the veggies delicious and everyone did a great job servicing and cleaning up. I would love to know how the sweet potatoes were prepared….