Corporate Dessert Catering
Win Free Catering
Our Famous Sweet Treats Dessert Catering

Pick one our favorite corporate dessert catering items: Dessert by the Dozen, Individual Desserts or Desserts for a Group. Either one you pick will surely be a perfect ending to a great catered meal.
 Just need an afternoon pick me up or a thank you g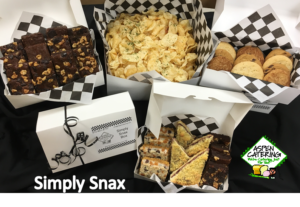 ift?
Order some Simply Snax 
Desserts By The Dozen

Baker's Pride
One dozen assorted gourmet cookies and party fudge brownies
Bars for Stars
An assortment of mini fudge brownies, lemon squares & coconut chocolate bars (by the dozen)
Decadent Dessert Bars
Celebrate in grand style with these extraordinary treats: white chocolate raspberry cheese cake, fudge brownies, raspberry sammies & sugar dusted lemon squares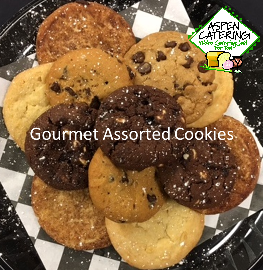 Gourmet Cookies
An assortment of gourmet chocolate chip, rocky road, sugar and cinnamon sugar cookies
Fresh Fruit Kabobs
Skewers with cantaloupe, pineapple and a fresh strawberry
Pick your Catering Delivery Options



back to the top
Individual Desserts
Red Velvet Cake
Individual Red Velvet cake with cream cheese mousse topped with whipped cream and cake crumbs
Fudge Brownies
Decadent fudge walnut brownies topped with lots of chocolate chunks
Gluten Free Fudge Brownies
Sugar Dusted Lemon Squares
Creamy lemon custard baked on top of a shortbread crust, dusted with powdered sugar
Raspberry Swirl Cheesecake Bar
A smooth white chocolate cheesecake swirled with fresh raspberry puree on a chocolate cookie crust
Coconut Chocolate Bars
Dark chocolate and butterscotch chips, coconut and walnuts  baked on top of a graham cracker crust.
Pound Cake with Fresh Berries
Rich buttery golden pound cake smothered with fresh sweetened berries and whipped topping. Refreshing and just perfect for summer
Pick your Catering Delivery Options



back to the top
Desserts for a Group
Aspen's Bread Pudding
Our own homemade bread pudding, spiked with a delicious vanilla sauce, Serves about 10-16
Pecan Cobbler
Just like the Southern pecan pie you adore just baked for a group in a pan! Serves 12-16
Peach Cobbler
Sweet peach slices tossed in spiced sugar and topped with a flaky crust – serves 10-16
Apple Cobbler
Sliced apples tossed in spiced sugar and topped with a flaky crust – serves 10-16
Pick your Catering Delivery Options



back to the top